OIL CONTROL VALVES

BGA set to transform the aftermarket with new Oil Control Valve offering….
As an engine parts specialist with over 15 years' experience, BGA are now able to offer the aftermarket a complete range of Oil Control Valves. The addition of this product complements our massively popular Timing Chain and Timing Belt ranges meaning we are now able to offer the complete program from VVT to control valve to timing belt and chain.
For more information, please feel free to contact a member of our Sales Team on sales@bgautomotive.co.uk or call +44 (0) 1793 491 777.
Giving control to the aftermarket
Feature points
Over 100 part numbers offering the largest range in the aftermarket
Product synergy with the Timing Belt and Timing Chain systems
Protective packaging
Full competitor and OE cross reference
Superior aftermarket quality
All makes program covering Audi, BMW, Citroen, Fiat, Ford, Honda, Land Rover, Mercedes, Nissan, Peugeot, Toyota, Vauxhall and VW engines
24 month Warranty
Oil Control Valves are fully functional valve timing solenoids that control the flow of oil to the VVT system as it is engaged.  Oil Control Valves activate when there is a significant load against the engine.  Some examples of this include while a vehicle is carrying additional weight, traveling up hills or when acceleration is expedited through throttle control. When the Control Valve activates, oil is sent to lubricate the variable valve timing chain and gear assembly. If the Control Valve fails or is blocked, the lack of proper lubrication can cause the chain and gear to prematurely wear or break entirely.  Symptoms of a failing / poor Control Valve include the check engine light coming on, dirty engine oil, rough engine idle, and a decrease in fuel economy.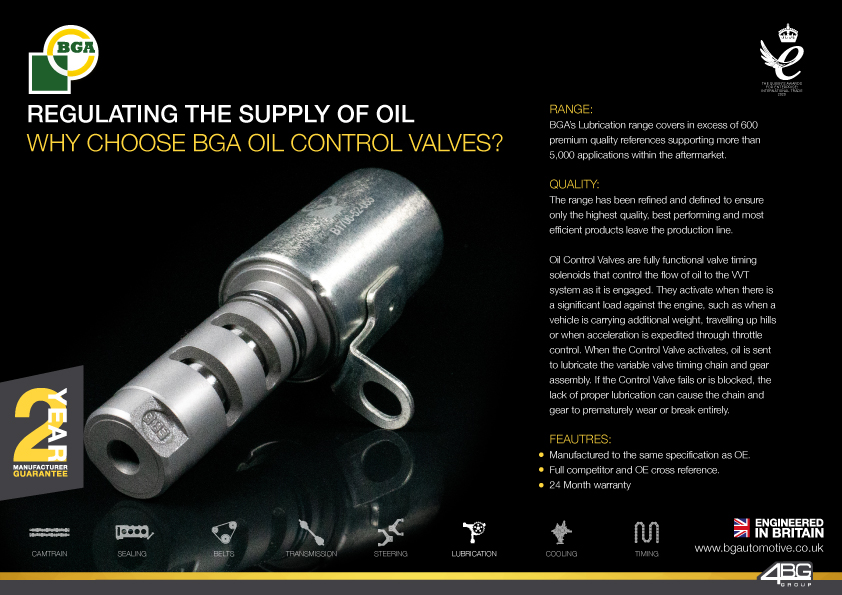 This is a market changing offer driving sales towards the aftermarket and away from the dealer.