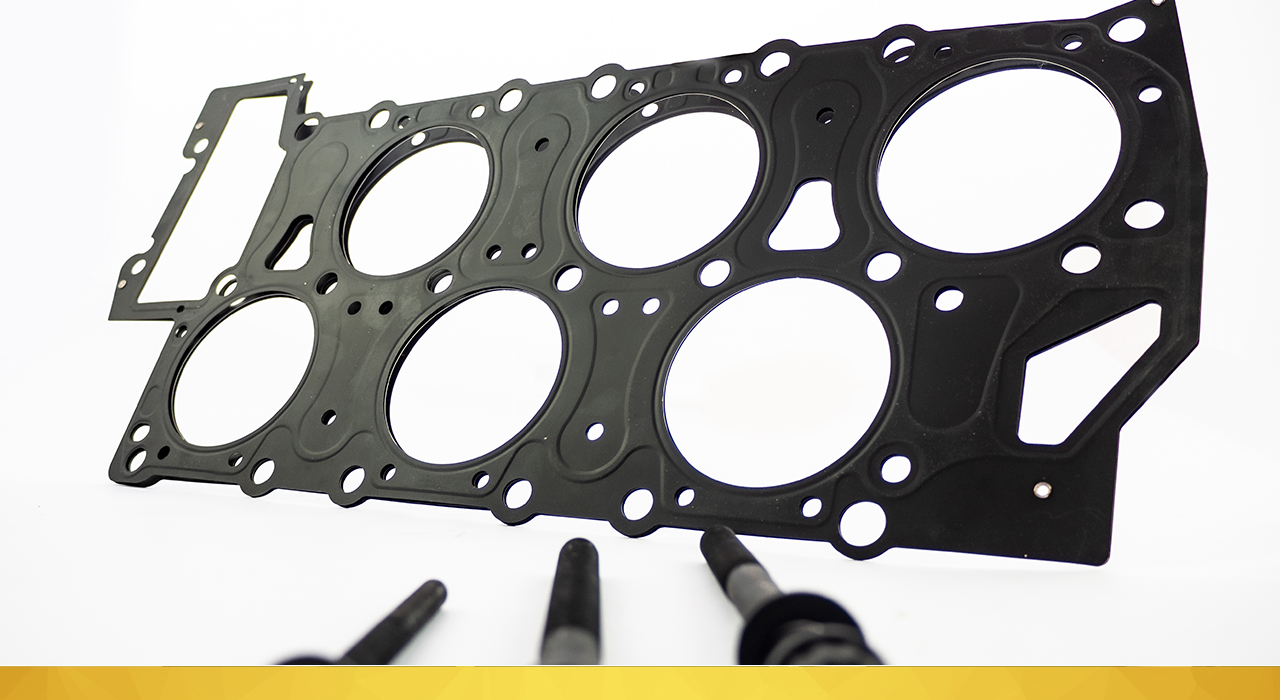 01 Aug

Gaskets and Sealing from BGA – An interview with Product Marketing Manager – Craig Timms
History
BGA are part of British Gaskets Group (4BG); a leading original equipment Gasket and Engine Component manufacturer formed in 1929. Together, BGA and the 4BG Group consist of 10 factories producing more than 28 million items annually for a range of industries. Meeting OE standards, our factories manufacture our products to the highest quality and have been doing so for more than 85 years.
Having cut our first gasket in London in 1929 the BG Group are an OE supplier to some of the world's best-known brands which include AUDI, BMW, FIAT, HONDA, JAGUAR, MINI, MERCEDES, NISSAN, LAND-ROVER, RENAULT, VOLKSWAGEN, to name a few.
With our heritage, we are considered one of the world foremost authorities on gaskets and their manufacture. As a specialist in this automotive market place, we offer an extensive range of over 11,000 different gasket references, covering 98% of the car parc and over 50,000 applications.
BGA is a one-stop shop when it comes to sealing. Our range covers:
Head Gaskets, Head Gasket Sets, Cylinder Head Bolts, Conversion Sets, Rocker Cover Gaskets, Inlet/Exhaust Manifold Gaskets, Sump Gaskets, Timing Cover Gasket, Silicone Sealants, Oil Seals and Valve Stem Seal Sets, to name a few!
What technologies and materials are most prevalent this this year? Why these technologies/materials?
The BG group is leading the market, introducing new materials and technologies that will prolong the life of the gasket and potentially the vehicle they are fitted to.
Steel gaskets continue to feature heavily in our range, especially in Cylinder Head Gaskets. Single Layer Steel (SLS) and Multi-layered steel (MLS) gaskets are stronger and have a high level of temperature resistance, whilst maintaining a perfect seal under both vertical and horizontal movement.
The market is seeing more and more Head Gaskets being upgraded to steel and this technology will continue to replace the existing fibre gaskets. Over 60% of BGAs Head Gaskets are now made from Steel.
BGA Cylinder Head Gaskets are covered with a Viton™ coating which is a synthetic rubber and fluoropolymer elastomer, applied in a thin layer it embeds itself into any imperfections in the cylinder head and block. When the gasket is clamped it exhibit high sealing properties at extended temperatures and ensures 100% of the mating surfaces are sealed.
Our Fibre Gaskets are produced with additional rubber or silicone beading to increase sealing areas around crucial areas on the Cylinder Head, again ensuring all imperfections in the block are sealed.
In areas where a rubber gasket is required we use three OE quality materials. Polytetrafluoroethylene Oil Seals (PTFE), Nitrile Butadiene Rubber (NBR) and Alkyl Acrylate Copolymer (ACM)
The use of PTFE seals means that the Seal can be fitted with very little or without lubrication as well as having a very high thermal tolerance.
NBR and ACM Rubber gaskets are both designed to withstand temperatures up to 150°C.
Finally, Cemjo gaskets are made from a composite gasket material consisting of a heat resistant Non-Asbestos joining combined with a perforated and tanged metal facing on one side. These are mainly used for Manifold gaskets, this material can withstand temperatures of up to 800°C, whilst also being oil and water resistant.
What is still one of the most common faults for modern gaskets to fail prematurely in passenger and light commercial vehicles?
Head Gaskets are vital parts of an engine. Any potential problems should be corrected quickly, as they could cause serious issues and added expenses if ignored.
Many failures seen in the market place can be attributed to the driver not carrying out a regular check on their vehicle. One of the most common causes of head gasket failure is over-heating, this can happen when the engine temperature becomes too high, often caused by an issue with the cooling system. These could quite easily have been avoided by checking the coolant levels, checking for leaks or even a lack of coolant in the radiator. When a head gasket exceeds its optimal temperature, the metal will expand and weaken resulting in the Head Gasket failing.
Another failure quite often seen is pre-ignition, when hot spots form in the combustion chamber and the fuel mixture in the cylinder burns before the spark-ignition event at the spark plug. Pre-ignition may or may not cause permanent engine damage, but it does lead to engine inefficiencies and may cause engine damage if it is a severe or continuous event.
Another symptom to watch out for is a light-coloured smoke coming out of the exhaust pipe. Almost grey or white in colour, this can mean that the damaged head gasket has allowed coolant to leak into the combustion chamber.
Irregular combustion occurs when combustion of some of the air/fuel mixture in the cylinder does not occur correctly. If this occurs it can result in excessive vibrations which can cause damage to the seals
If a driver fills the vehicle with incorrect fuel, either low grade and low octane this can result in gasket failure as well as damaging other engine components.
Whilst the driver could be responsible for many of the failures, poor installation can also be a factor. When it comes to 'best practice' we recommend that the cylinder Head Bolts are not re-used. All Head Bolts are Torque to Yield (TTY) meaning they can only be used once.
The original bolts, once fully loosened will have becomes elongated and weakened. If re-used they may not compress the head and gasket leading to poor fitting and potential leakages.
Once new bolts are fitted it is important to ensure the correct torque is applied, as incorrect torqueing means the gasket will be unevenly clamped which could lead to distortion and leakage of the seal.
Damage to Gasket during fitment, if the Head gasket is clamped down more than once during fitment, it can cause areas of the Gasket to be over compressed and/or damaged.
Can garages still make money on gaskets despite the declining market? How?
At BGA we strongly believe and recommend that garages and mechanics observe 'best practice' that's why we offer complete kits solutions, better safe than sorry and a one-stop solution.
As well as Head Gaskets and Sets, BGA has identified the need for other seals and as a result, we offer many other individual gaskets that are still in big demand. Rocker cover gaskets, Sump gaskets, Timing Covers Gaskets and Oil Seals right down to the smaller EGR and oil filter gaskets.
Even though Head Gasket technology has improved, resulting in the declining market, these other seals and gaskets continue to grow. We have seen a consistent increase in demand for these individual items, such as Rocker cover gaskets.
Preventative maintenance by the mechanic can save the customer money in the long run, give them peace of mind and offers mechanics an incremental revenue stream. Rocker Cover Gaskets do experience high temperatures and over time will become brittle and eventually leak, and will subsequently need to be replaced. This can also apply to Sump gaskets and Oil Seals.
Being a manufacturer of OE parts, the 4BG group (and thus BGA) are able to respond to demand for new seals, even our smaller gaskets have seen success take for example the BMW N47 oil filter gaskets, this gasket should be replaced when carrying out an oil and filter change but can often be over looked.
Replacing these smaller gaskets and seals is not always down to them failing, but because the installer may decide to replace it whilst they have removed the outer ancillaries. Other areas the mechanic should look at are sump pan gaskets and timing cover gaskets.
What new services and programmes has or will BG Automotive be releasing to help educate garages on its different variations of gaskets i.e. head and manifold gaskets
Correct gasket and installation is essential to safe operations. If the correct gasket is not ordered, or if it is not installed correctly by a competent mechanic, the gasket can be the root cause of future problems and potential vehicle failure.
Technical Bulletins
Where possible, we produce technical bulletins to ensure correct fitment. All of our gasket sets come with specific instructions, unique to the application.
Technical Support:
Our design and development engineers are always on hand to help when a mechanic, dealer or factor have issues they cannot identify or resolve.
Product Training:
Our Sales Managers are constantly carrying out product training and we run the
BGA Advance Product Understanding, where we cover not only how the products work but also the applications.
There are several other support and training programs on offer from BGA.
Stock profiling:
Our product management team constantly monitor the market place and their expertise is here to help the factor identify exactly what products they should hold in order to offer their customers the best possible service level be it VOR repairs of simply routine maintenance off the shelf components.
Product referencing:
All BGA gaskets and seals come with a full application list including the manufacturers OE references.